Touchstone Energy Cooperatives and Dakota News Now Television have joined together to recognize the achievements of high school senior's throughout the region. "Touchstone Energy Scholar of the Week" has been celebrating the achievements of high school seniors since 2002. Recipients are highly motivated high school seniors who excel in the classroom and community. This program was founded on the four pillars of Touchstone Energy: Integrity, Accountability, Innovation and a Commitment to Community. For more information on the program please call your local Touchstone Energy Cooperative.

Touchstone Energy Cooperatives are local, active members of their communities, dedicated to building our communities and improving our way of life. Since the Scholar of the Week program began, more than $80,000 in scholarships has been awarded to more than 530 students. The program is a great partnership between local Touchstone Energy Cooperatives and their members and truly captures the commitment that electric cooperatives have to the communities they serve.

Nominations for the weekly awards are submitted by area school principals and faculty, whose selections were based on excellence in the classroom and service in the community.
Previous Clay-Union Electric Winners:
Joshua Bern, Vermillion HighSchool
Samual Ward, Vermillion High School
Sydney Kuhnert, Gayville/Volin
Mason Schroeder, Vermillion
Justin Sorensen, Vermillion
Alexander Palecek, Yankton
Madisen Martinez, Vermillion
Brandon VanOsdel, Gayville-Volin
Hope Knedler, Vermillion
Joe Miller, Vermillion
Katherine Brockevelt, Vermillion
David Wang, Vermillion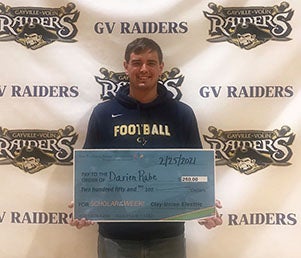 Darien will be featured on Dakota News Now during the 6:00PM news on Monday, April 5 and again on the Dakota News Now morning news on Tuesday, April 6 between 6:00AM and 7:00AM.
Darien was presented with a $250 check for his accomplishments by Clay-Union Electric's, Jackie Williams, Marketing/Communications.

 

GPA 3.990

 

School Activities: Basketball (Grades 9-12) – letter winner; GVHS Raider Award (11th grade) Track and Field (Grades 9-12) – letter winner; GVHS MVP in the Field Award(9th grade); GVHS Raider Award Football (Grades 9-12) – letter winner; All-Conference (11th/12th grade); GVHS Best Lineman Award (11th grade); GVHS Outstanding Lineman (11th grade); GVHS Newcomer Award (9th grade) FCA (Grades 9-12) Student Council (Grades 11 & 12) GV Mentoring Program (Grades 9-11) – mentor Choir (Grades 10 & 11) – All-State Choir (9th grade) Community & Leadership Activities: South Dakota American Legion Boys State Program – 2020 GVHS Delegate Member of Gayville Lutheran Church • ELCA Youth Gathering (2017 in Houston) • Vacation Bible School Helper (2017 & 2018) Boy Scouts of America • Member since 5th grade • Completed Eagle Scout Project (Outdoor Grill for Gayville-Volin School District Athletic Complex) • Completed at least 200 hours of community service Other Honors/Awards: High Honor Roll (Grades 9-11) – presently on track to earn high academic honor roll for grade 12 as well as academic graduation honors

 

Darien Rabe is from Gayville, son of David and Cassondra Rabe, and are members of Clay-Union Electric Corporation, a Touchstone Energy Cooperative.
---